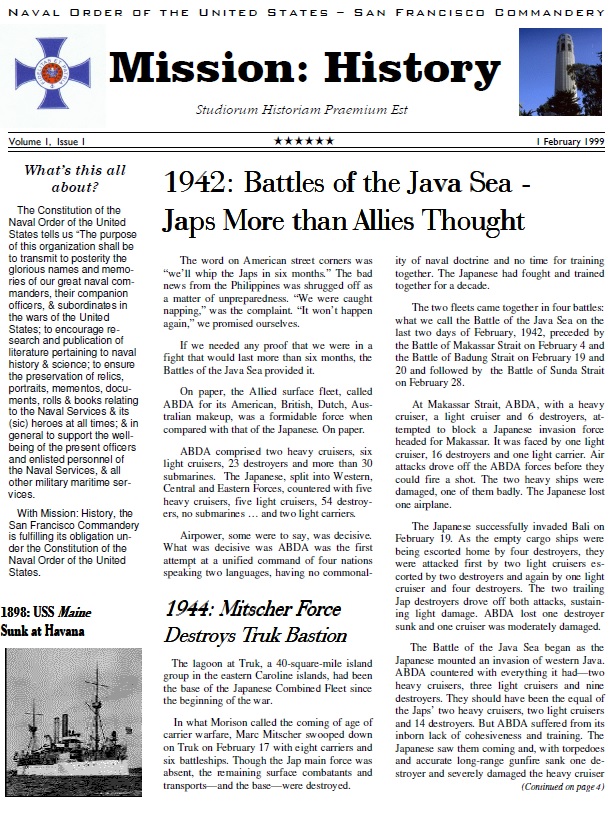 Vol I, Issue 1 - Feb. 99
Articles
1942: Battles of the Java Sea – Japs More Than Allies Thought
1944: Mitscher Force Destroys Truk Bastion
1915: Churchill Pushes Asquith To Attempt Forcing Dardanelles
Vol I, Issue 2 - Mar. 99
Articles
1943: Bismarck Sea – MacArthur's Air Corps Sinks Entire Jap Convoy
1941: Royal Navy Rules the Med After Routing Modern Italian Fleet
1898: Oregon's Famous 14,00 – Mile Dash to Cuba
Night Action off Matapan Costs Axis Three Cruisers, Costs Italy its Will to Fight
1943: Where the Hell are the Komandorski Islands, Anyway?
1862: Ironclads Introduce New Era of Sea Warfare In Duel at Hampton Roads
1811: At the Battle of Lissa, Nelson Protégé Takes the Measure of the French
Vol I, Issue 3 - Apr. 99
Articles
1865: Worst Ever US Marine Disaster Kills 1,800 Union POW's
1945: The Mightiest Armada Ever Carries the Pacific War to Okinawa
1942: Malta's Defense Calls for Spitfire – Wasp Delivers the Goods
Okinawa Proves to be Bloodiest Pacific Battle
1587: Drake Hits Spanish in Home Port; "Singeing the King of Spain's Beard"
1942: Halsey, Mitscher and Pacific Fleet Get Doolittle Close Enough to Tokyo
Vol I, Issue 4 - May 99
Articles
1898: "You May Fire When Ready, Gridley": Battle of Manila Bay Established America as Major Naval Power
1942: Coral Sea Ends Japanese Advance in South Pacific
1904: Russian Fleet's Slow Dash to Disaster at Tsushima Straits
1941: British Avenge Hood, Sink Bismark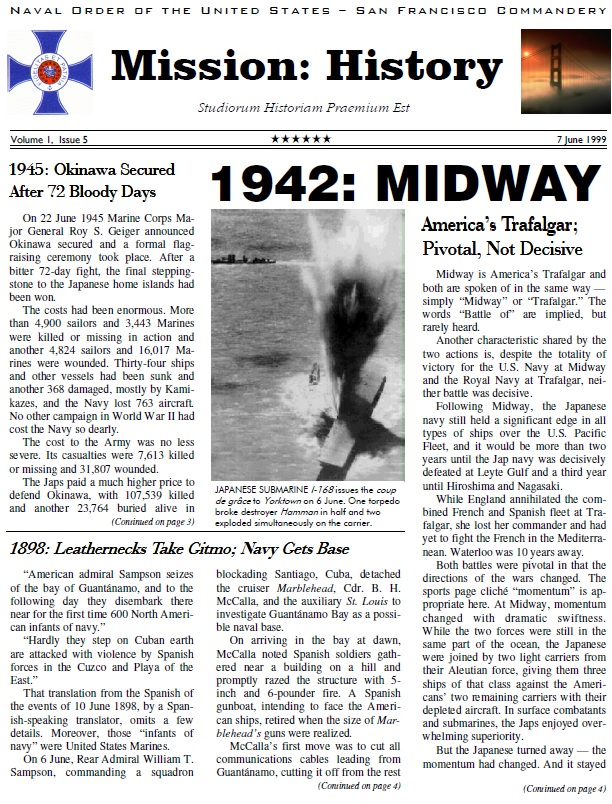 Vol I, Issue 5 - Jun. 99
Articles
1942: Midway – America's Trafalgar; Pivotal, Not Decisive
1945: Okinawa Secured After 72 Bloody Days
1898: Leathernecks Take Gitmo; Navy Gets Base
1794: Howe Defeats Villaret – Joyeuse, or Does He?
Lord Howe's Signals Book Revolutionized Command Communications in Battle
Vol I, Issue 6 - Jul. 99
Articles
1943: "The Slot" Remains Hirohito's Private Lake as Tokyo Express Clobbers U.S. with Torpedoes
1704: As Naval Prizes Go, Gibralter was England's Brass Ring, and the Royal Marines Took it for Her
Late Breaking News from Nelson's Victory at the Nile in 1798
1944: Guam and Tinian Follow Saipan as Navy, Maines, Army Provide Bases for Air Force to Send Bombers Against Jap Homeland
Vol I, Issue 7 - Aug. 99
Articles
1864: Farragut Carries Day at Mobile
1798: Nelson's Victory over French at Nile Strands Bonapart in Egypt
Vol I, Issue 8 - Sep. 99
Articles
1813: "We Have Met the Enemy, and They are Ours…"; Perry's Lake Erie Victory Permits Harrison's Army to Recapture Detroit
1776: An Army Sergeant was the First Commander of an American Submarine to Attack the Enemy
1944: Allies Sink Six Prisoner – Laden Jap Ships; Death Toll Greater than Saipan, Tarawa, and Iwo
1939: German U-Boat Sinks British Passenger Liner Carrying Civilians Away from Newly – Declared War
Vol I, Issue 9 - Oct. 99
Articles
1944: With the World's Eyes on Europe, U.S. Fights History's Largest Sea Battle, Leyte Gulf
Surigao Strait Action: Oldendorf's Battleline Annihilates Nishimura
Churchill's Dispatches to MacArthur, Roosevelt
Did MacArthur Sleep Through Surigao Battle?
In U.S. Navy's Heroic Battle off Samar, 3 Destroyers, 4 Des, 6 Baby Flattops Turn Back 4 Japanese Battleships, 8 Cruisers
Halsey Abandons Kinkaid to Chase Jap Decoy Force
1805: Nelson's Victory at Trafalgar Still "Most Important Ever" to Many
A Nelson Captain Writes in Remorse of His Death
Subs Darter; Dace Ambush Kurita in Palawan Passage, Sink Two Japanese Cruisers
It Takes 19 Torpedoe Hits to Sink Unsinkable Musashi in Battle of Sibuyan Sea
Fury of Five – Inch Guns has Kurita Thinking He's Facing Cruisers
1941: Four – Piper Reuben James First U.S. Ship Lost in WWII
One 250 Kilogram Bomb Well Placed Causes Loss of Princeton, Carnage on Birmingham
1891: Bar Brawl in Chile Strains International Aminity; Two U.S. Sailors are Slain in Fight at True Blue Saloon
The Nelson Society
Vol I, Issue 10 - Nov. 99
Articles
1943: Tarawa – Marines Get the Job Done, But Central Pacific Campaign Won't Be Easy
Gilbert Island Invasions are Nimitz's First Step on Long Road to Tokyo
5,200 Japanese Defenders on Benito Island Fought for Three Days, Until Only 17 of Them Were Alive
1812: Invasion of Canada Halted When Soldiers Won't Leave U.S.
"Makin Taken", Crows Dispatch from Army General, But Nimitz Fumes as Delays Endanger U.S. Fleet
1932: Allies Take Offensive Against Axis with U.S. Led Invasion of Northwest Africa
1759: Wild Weather, Treacherous Waters Don't Deter Hawke in Battle with Conflains
Vol I, Issue 11 - Dec. 99
Articles
1941: Those Who Could Fight Back: Mess Attendant Among Many Heroes of Japanese Sneak Attack
1812: Old Ironsides Defeats HMS Java in Battle off Brazil
1914: Royal Navy, Defeated at Coronel, Exacts Revenge in Full at Falklands – The Famous Destruction of von Spee's Asiatic Fleet in South Atlantic Waters
1937: On a Sunny Sunday in December, Japanese Attack Panay without Warning